LiFi in Space Launched by SpaceX
The first satellite incorporating LiFi technology, aboard the Inspire-SAT 7 nanosatellite, will launch with SpaceX.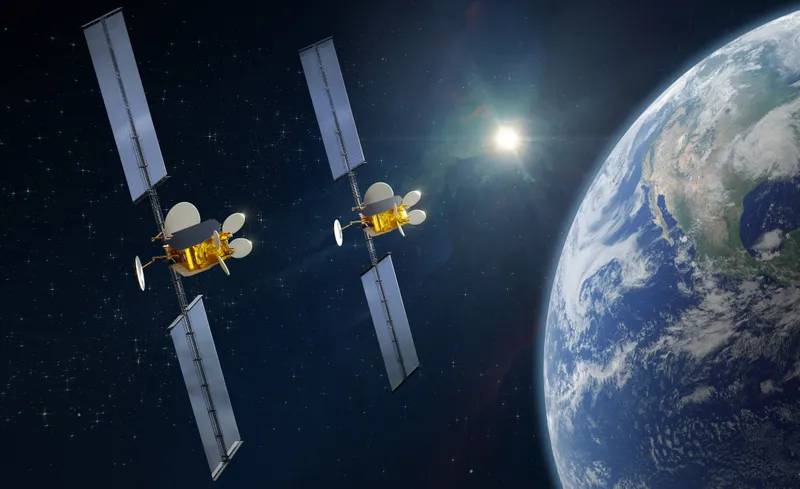 Oledcomm, a global leader in LiFi technology, internet through light, demonstrates new applications in space. After unveiling LIFIMAX2G®, enabling future factories and transportation to connect through invisible light and doubling the connection speed to 2Gbps, Oledcomm showcases the crucial advantages of LiFi in space exploration. LiFi provides an alternative to radio waves and cables, with extremely low energy consumption, lightweight design, and maximum security.
On April 9th, the first satellite incorporating LiFi technology, aboard the Inspire-SAT 7 nanosatellite, will launch with SpaceX.
The INSPIRE-SAT 7 nanosatellite, developed by scientists from LATMOS, will take off on April 9, 2023, from the Vandenberg US base in California as part of SpaceX's Transporter-7 mission. INSPIRE-SAT 7 is a scientific nanosatellite dedicated to Earth and solar observation. It will carry a LiFi Module called SatelLife®. This LiFi Module implemented by OLEDCOMM and LATMOS for data transmission through visible light will be tested and will be the first LiFi device in space.
LiFi offers numerous advantages. It allows for a completely secure and high-speed wireless connection (2Gbps) up to 1 km in space, significant weight savings by eliminating radiation-resistant space-grade cables and connectors. The total mass of data cables in a geostationary satellite is approximately 65kg. Each kilogram requires 50 kilograms of kerosene to be put into orbit.
It is also an ultra-secure mode of communication, with its signal impossible to hack outside the light cone. It is envisioned for numerous space applications, including:
Replacement of payload-computer cables within satellites.
Replacement of bus data cables within satellites.
Replacement of inter-stage cables on launchers.
Replacement of cables on lunar stations, both indoor and outdoor.
Space rendezvous, facilitating communication between two nearby devices in space.
Mustapha MEFTAH, program manager of CNRS/LATMOS/UVSQ/SU, says, "LiFi, thanks to the enormous amount of data it can process during orbital operations, opens up new perspectives in space and Earth observation from space. With the space-saving aspect, we can also accommodate new sensors without compromising computing power. This technology contributes to the success of our mission: revolutionizing space research."
Benjamin Azoulay, CEO of Oledcomm, states, "Space exploration, entering a new era with NewSpace, requires a new standard of wireless communication that is fast, reliable, uninterrupted, and inherently secure. LiFi perfectly meets these needs and, moreover, allows for significant weight and space savings in sophisticated devices where every cm² and gram count."
About LATMOS and INSPIRE-SAT 7
LATMOS (Laboratoire Atmosphères, Observations Spatiales – UVSQ/Sorbonne Université/CNRS) and the National Office for Aerospace Studies and Research (ONERA) are the originators of the INSPIRE-SAT 7 satellite. LATMOS is affiliated with the Versailles Saint-Quentin-en-Yvelines Observatory (OVSQ) and the Pierre-Simon Laplace Institute (IPSL).
INSPIRE-SAT 7 is a 2U nanosatellite weighing approximately 2 kg. It is equipped with a multitude of miniaturized sensors to measure essential climate variables and test new devices. Twice the size of its predecessor (UVSQ-SAT), it carries several additional equipment on board.
About Oledcomm
Oledcomm is a French Spin-Off company from the University of Paris-Saclay and a leader in invisible light optical communications (LiFi) solutions. It has a strong technology leadership in LiFi, with more than 33 patents and three Innovation Awards at CES in Las Vegas in 2018 and 2019. The company is ISO 9001:2015 and ISO 14001:2015 certified. Oledcomm's LiFi offering solves connectivity problems by replacing cables in environments where radio waves are undesirable. Targeted sectors include space, defense, industrial and education. Since 2020, LiFiMAX® has been installed and tested in more than 800 projects worldwide and has been validated by ORANGE for Cybersecurity. At the Mobile World Congress in Barcelona in 2021, Oledcomm announced an integrated circuit (ASIC) that enables native LiFi integration in tablets, PCs or smartphones. Oledcomm is a laureate of the European Deeptech EIC Accelerator program, which provides for the European Commission to invest in Oledcomm through the EIC Fund.
Read more : L'Usine Nouvelle   VIPress   Paperblog   L'Embarqué